RunCloud Review: WordPress/PHP Cloud Server Management Portal
Overall Quality:

5

Ease of Use:

5

Features & Functionality:

4

Customer Support:

4

Value for Money:

4

Ease of Deployment:

4

Pricing:

Mid-tier

Recommendation Score:

8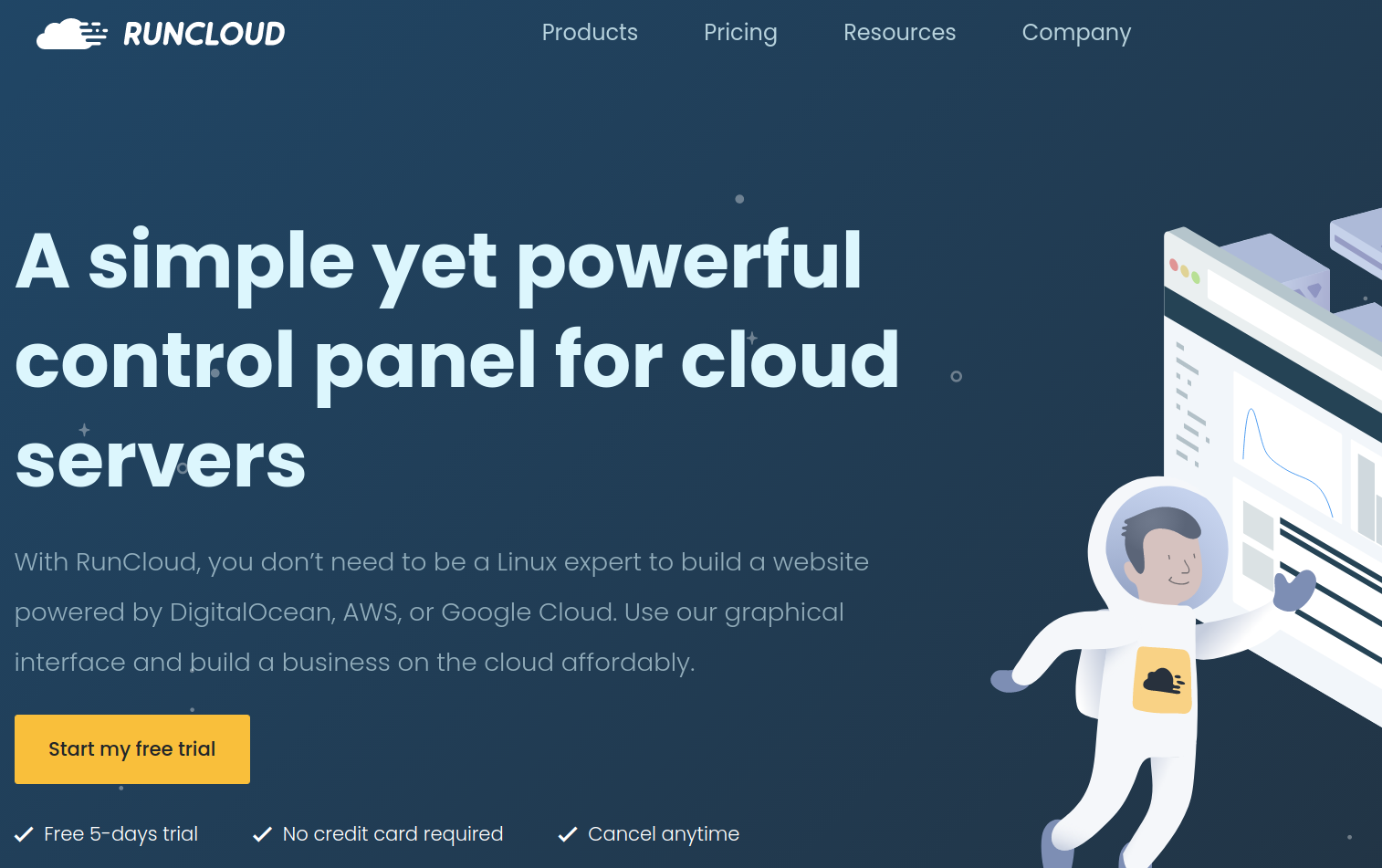 Are you tired of dealing with the hassles of server management? You should consider a WordPress/PHP cloud server management solution from RunCloud.
RunCloud Overview & Pricing
RunCloud is a cloud server management portal that enables you to manage your WordPress powered website. It can also be used for managing other cloud servers like LAMP, NodeJS, and more. All of the cloud servers are managed in one place.
RunCloud Sdn Bhd is based in Kuala Lumpur, Malaysia.
RunCloud pricing has three plans: Basic, Pro, and Business.
The Basic plan starts at $8/month (or $6.67/mo if you pay annually) and allows you to manage one server. The Pro plan is $15/month (or $12.5/mo if you pay annually) and then you can manage unlimited servers. The Business plan is $45/month (or $37.5/mo if you pay annually) and you get additional features like WordPress Canvas (templates for WordPress deployments), Cloudflare DNS integration, and ModSecurity WAF.
Basic Plan
1 server
Unlimited web applications
One-click SSL
Git deployment
Access to use RunCloud Hub plugin
1 WordPress staging
Pro Plan
​​Everything in Basic
Unlimited servers
Unlimited web applications
10 WordPress staging
Clone web application
Custom NGINX Configuration
6G and 7G Firewall
Business Plan
Everything in Basic and Pro
Atomic Deployment (Zero downtime deployment)
Team collaboration
Unlimited WordPress staging
WordPress Canvas
Directly login to WordPress Panel via RunCloud Hub plugin
Cloudflare DNS integration
ModSecurity + OWASP Core Rule Set (CRS) Web Application Firewall (WAF)
Dashboard UI/UX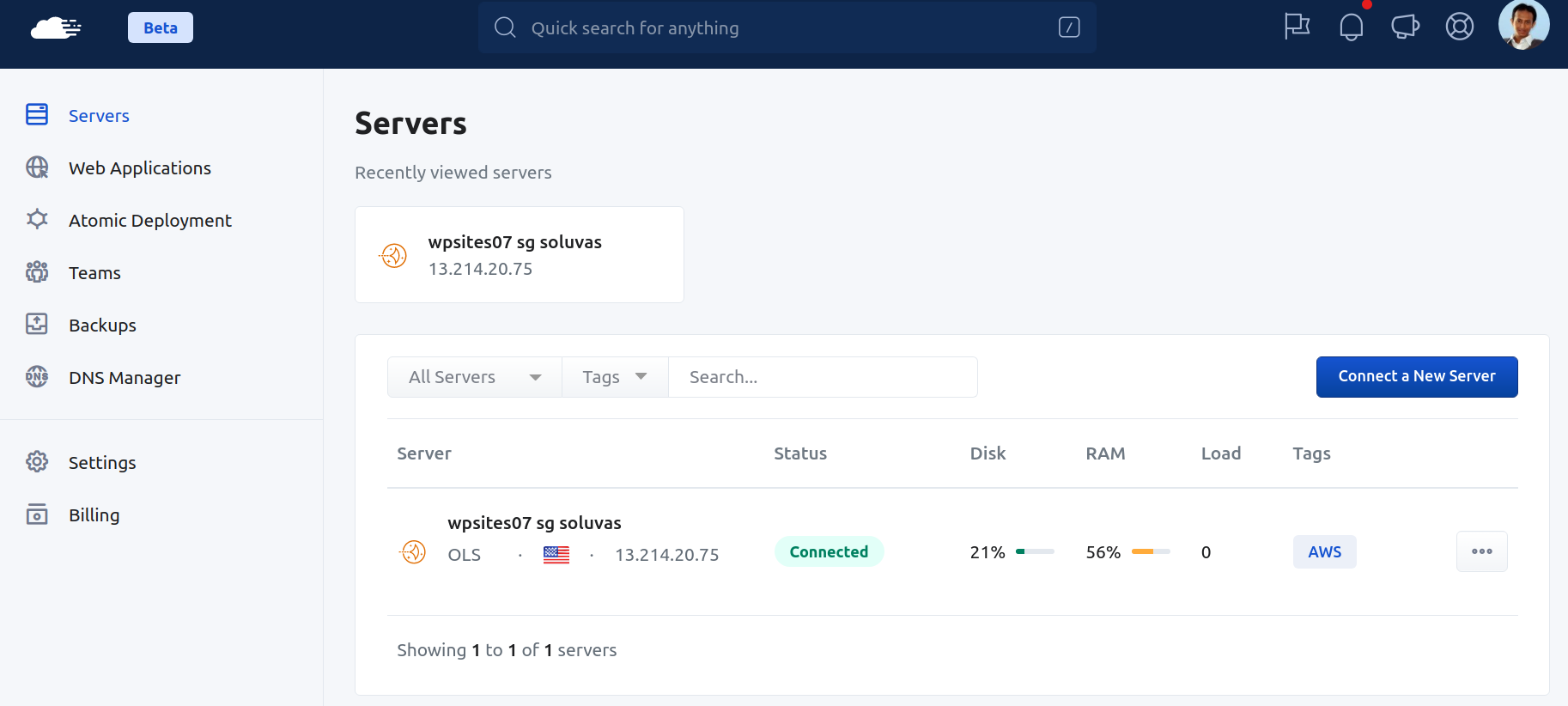 RunCloud's UI/UX is quite clean, and easy to navigate.
From the main sidebar you have access to Servers, Web Applications, Atomic Deployment, Teams, Backups, and DNS Manager. These are the menus that your teams will use operationally. Other than that, there are administrative menu items: Settings and Billing.
Managing Team-Members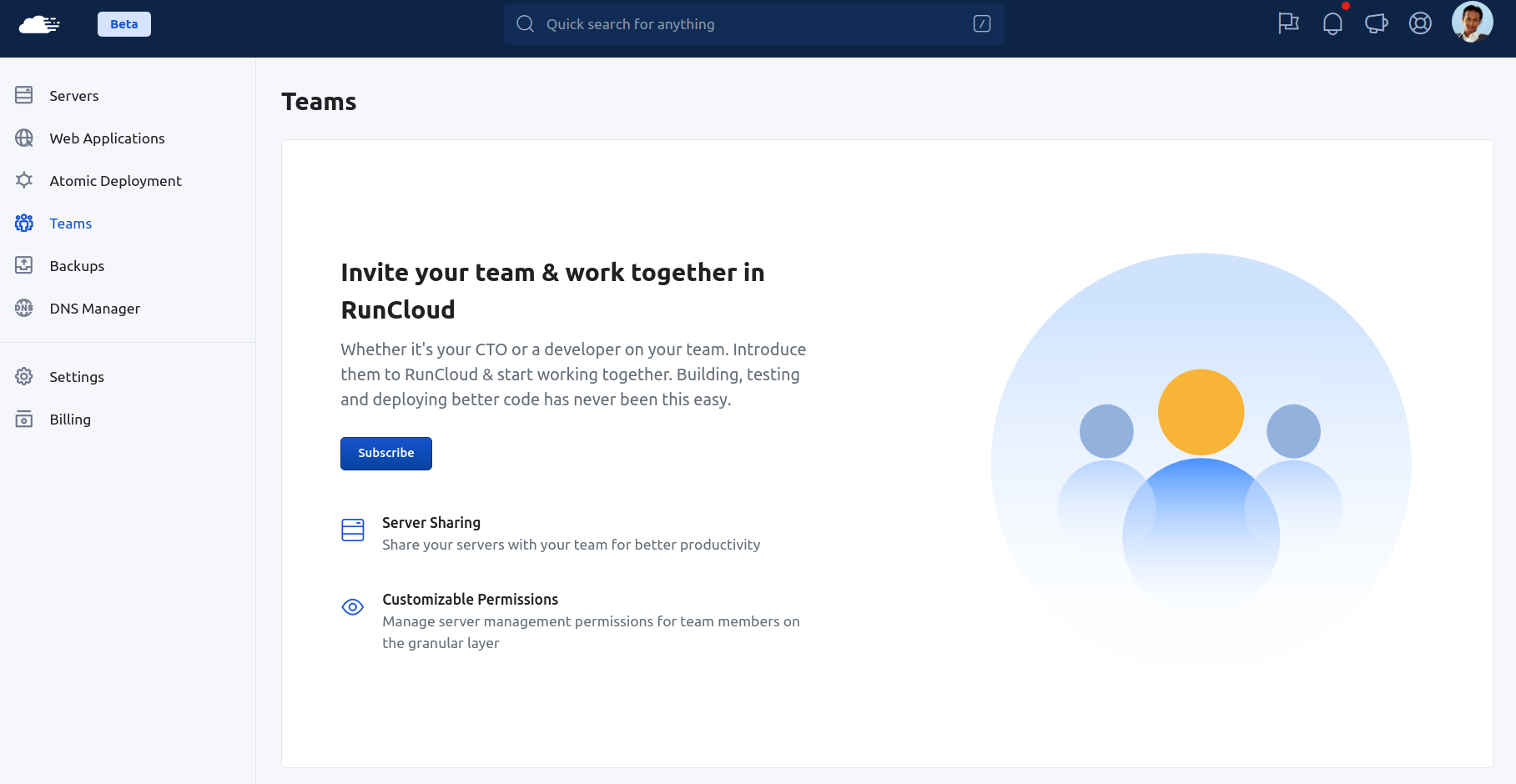 RunCloud allows you to manage team members, multiple projects, and your cloud servers. You can manage your team members permissions to your projects and your server's configurations. Note that team functionality is only available for Business plan.
General Features & Configuration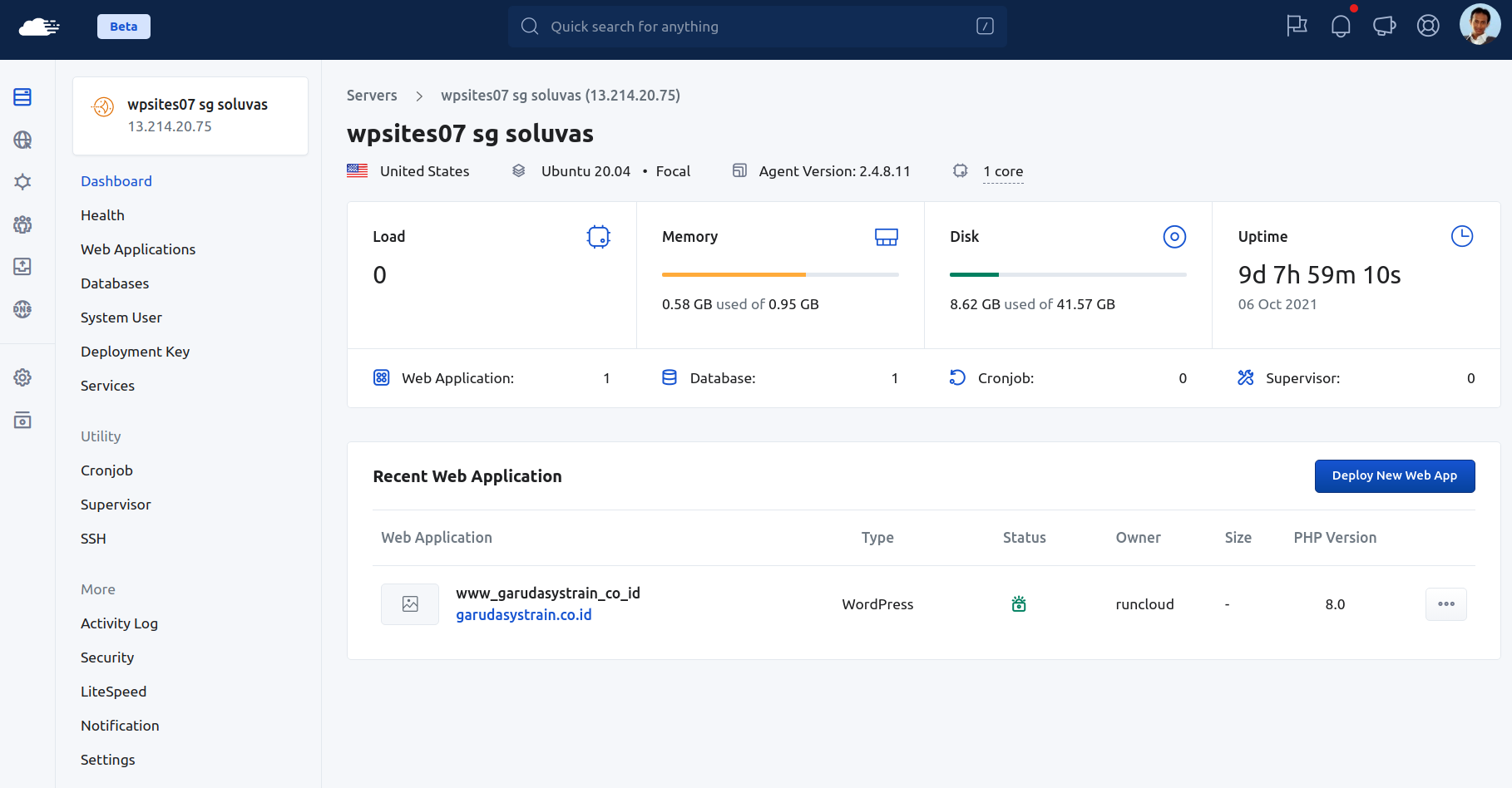 Managing Servers and WordPress/Web Applications
In the Servers section, you can manage existing servers, and install the RunCloud agent in a new server. It also shows server statistics Disk, RAM, and CPU load. Navigate to a server that you want to manage, and click on it to manage the server. You will be taken to a page where you can edit the server's name, tags, description, and other settings.
Installing, cloning & moving WordPress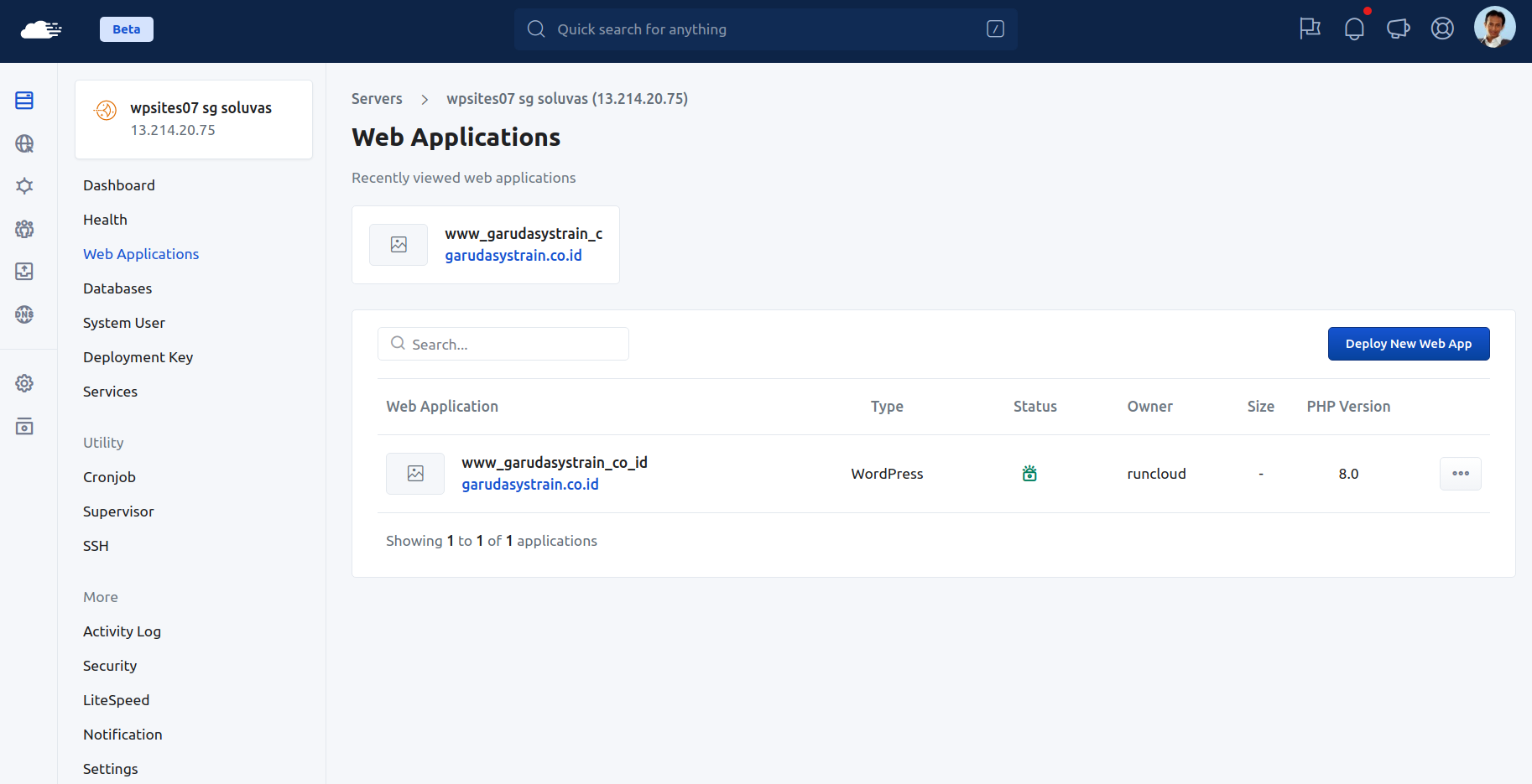 In Web Applications section, you can see the list of web applications and WordPress websites managed by RunCloud. You can also install WordPress or a PHP application here. You can choose a desired PHP version for each web application. You can also choose Nginx or LiteSpeed.
Within a web application, you can manage other features: file manager, domain name, SSL/TLS, tools, staging, WordPress general settings, Nginx or LiteSpeed config, Firewall, web settings, Web Server logs, and Activity logs.
One-click Staging Environment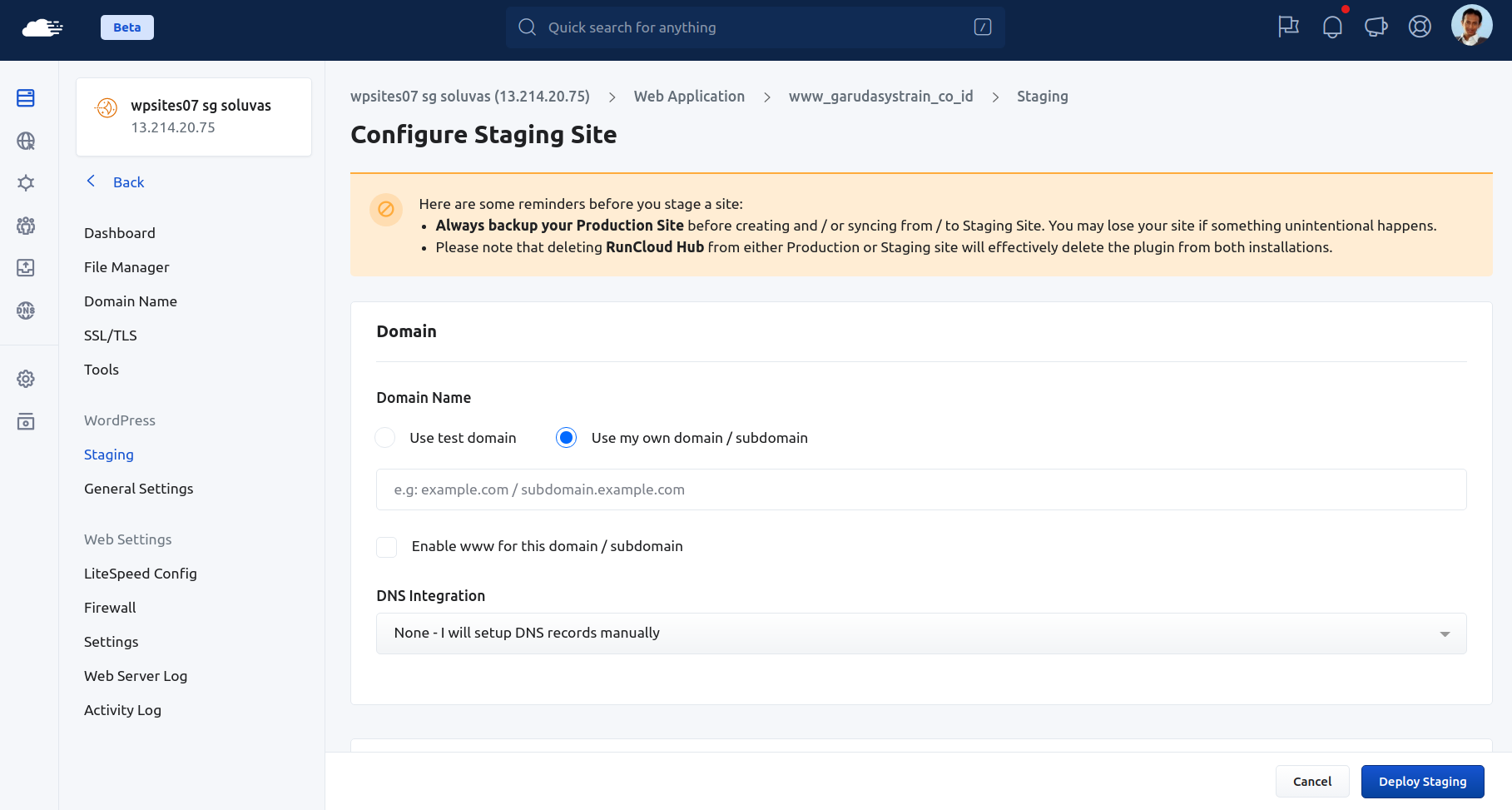 A handy feature is that you can create WordPress or web app staging environment easily. This can be used to experiment and preview multiple changes before they are applied to the production site.
This is a great feature! This will save you from making changes that were too drastic to break a site or annoy your client. I feel like it's a great way to experiment without affecting your live site.
Speed & Performance Test
Before talking about performance, the disclaimer here is that the actual server specifications and your hosting provider will have much more impact on the performance. So these tests gives you a rough idea about the performance of a RunCloud-managed server for serving basic WordPress sites.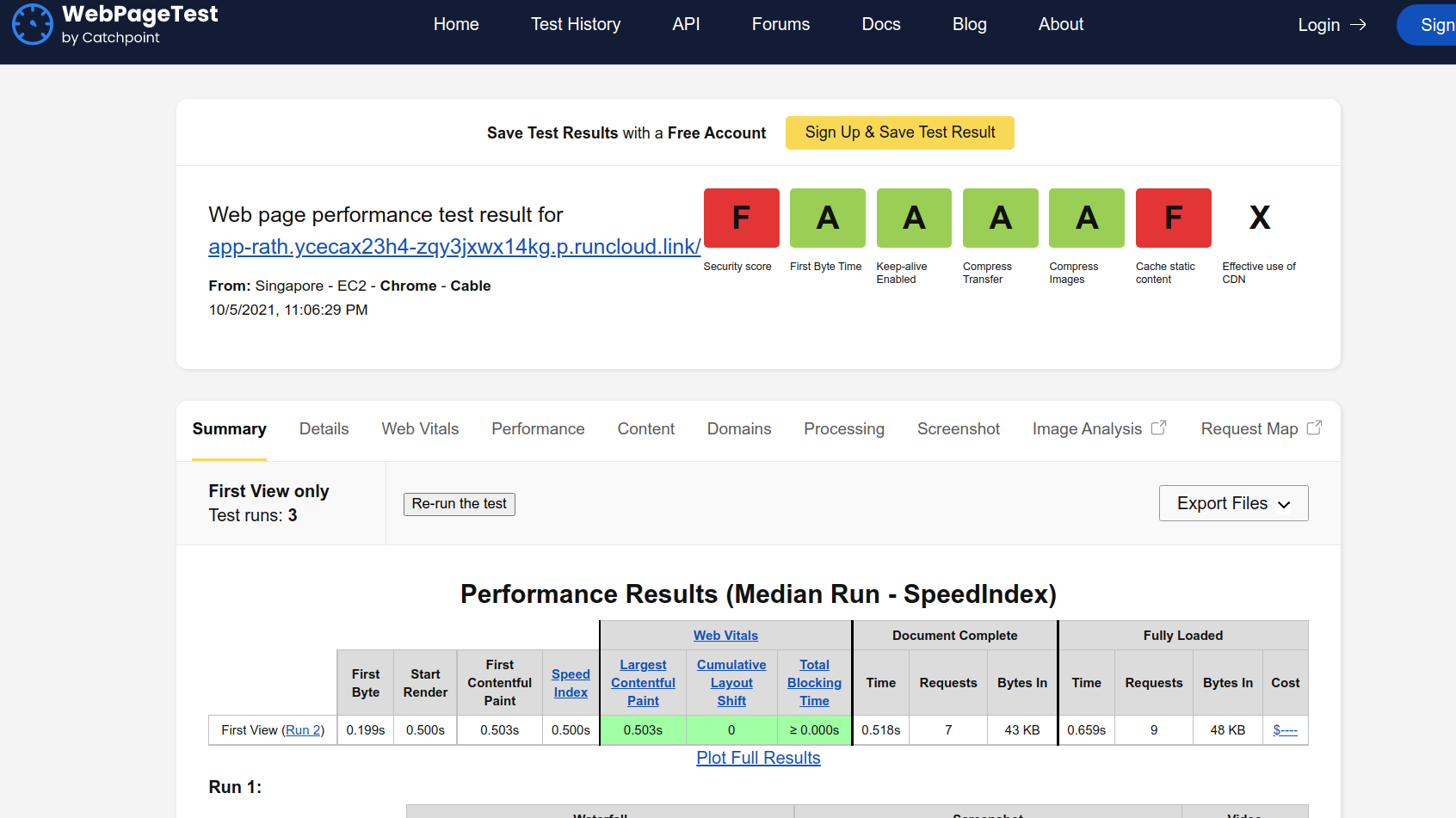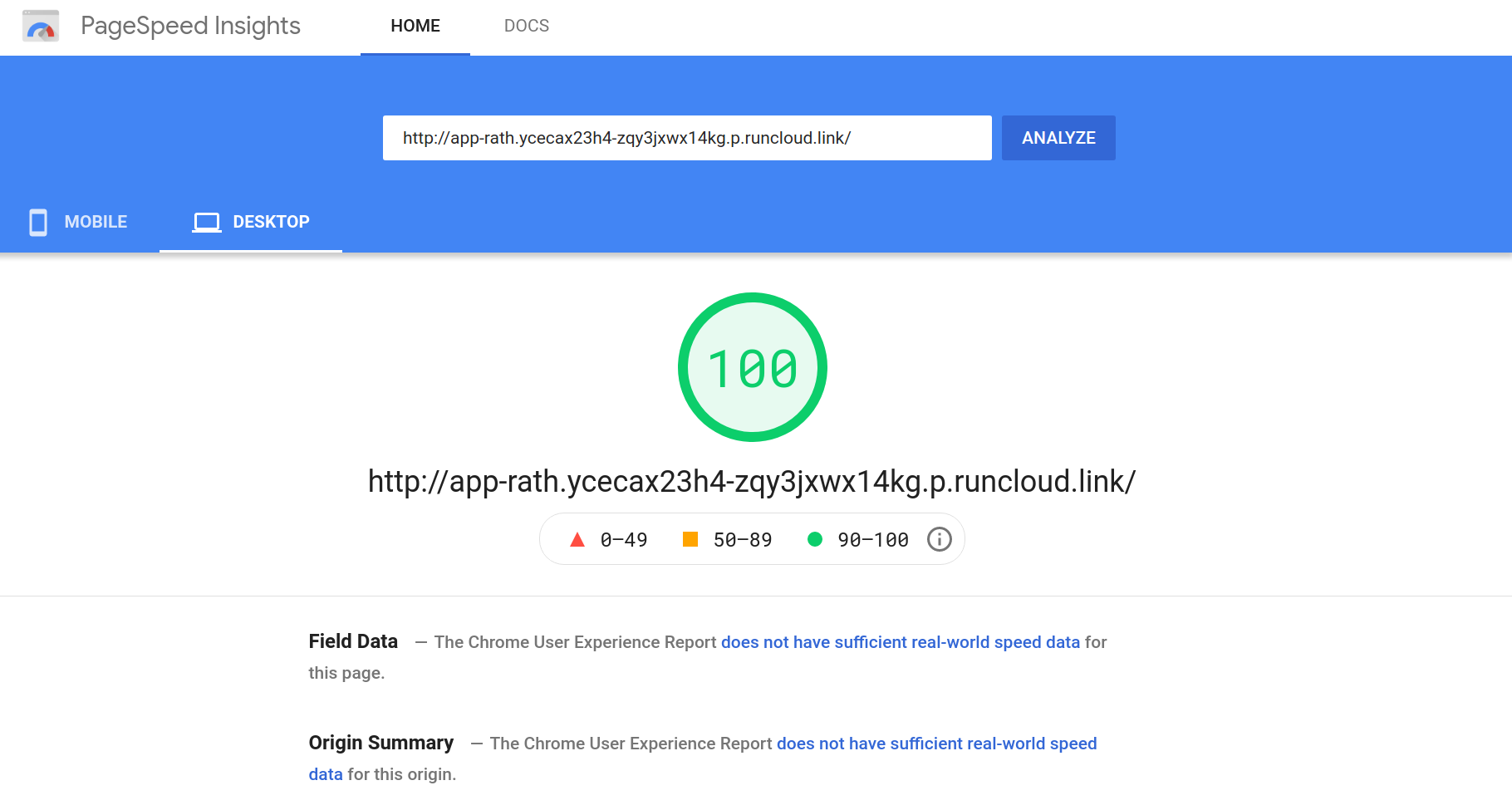 I tested using WebPageTest.org and Google PageSpeed Insights. For WebPageTest.org, it gets A for First byte time, Keep-alive enabled, Compress transfer, and Compress images. It gets F for Security score and Cache static content. It doesn't get any score for CDN because no CDN is enabled.
For Google PageSpeed Insights, it gets 99 for Mobile and 100 for Desktop, which is really good.
Security Features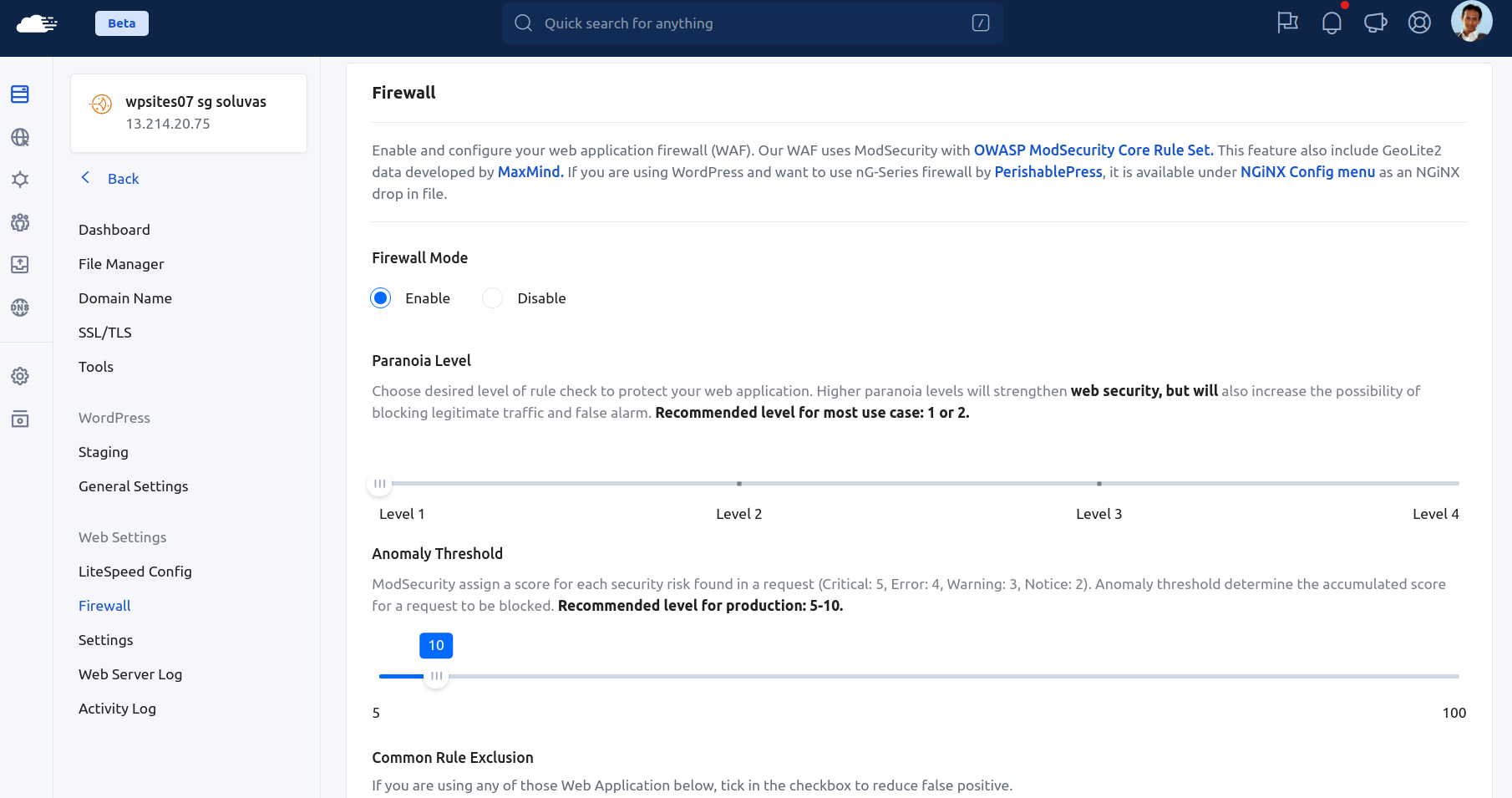 RunCloud provides SSL/TLS support using LetsEncrypt certificates, firewall, and Fail2Ban by default. With firewall, you can configure the rules to allow only certain traffic. Fail2Ban is an intrusion prevention system that attempts to prevent brute-force attacks by monitoring log files and taking action on offending hosts.
If you opt for the Pro Plan, you also have access to ModSecurity and OWASP Rules. ModSecurity is a web application firewall that can protect your website against network-based and HTTP specific attacks. OWASP (Open Web Application Security Project) is a community focused on improving the security of software by providing guidance.
Analytics, Logging & Troubleshooting Features
Having analytics and server health metrics is important so you know how your server is doing. You can view your server's CPU & Memory usage, Disk usage, and CPU load.
You can also view server logs, web application access logs and error logs. This can help you with troubleshooting any issues that may occur.
Help & Customer Support, Documentation, and Knowledge Base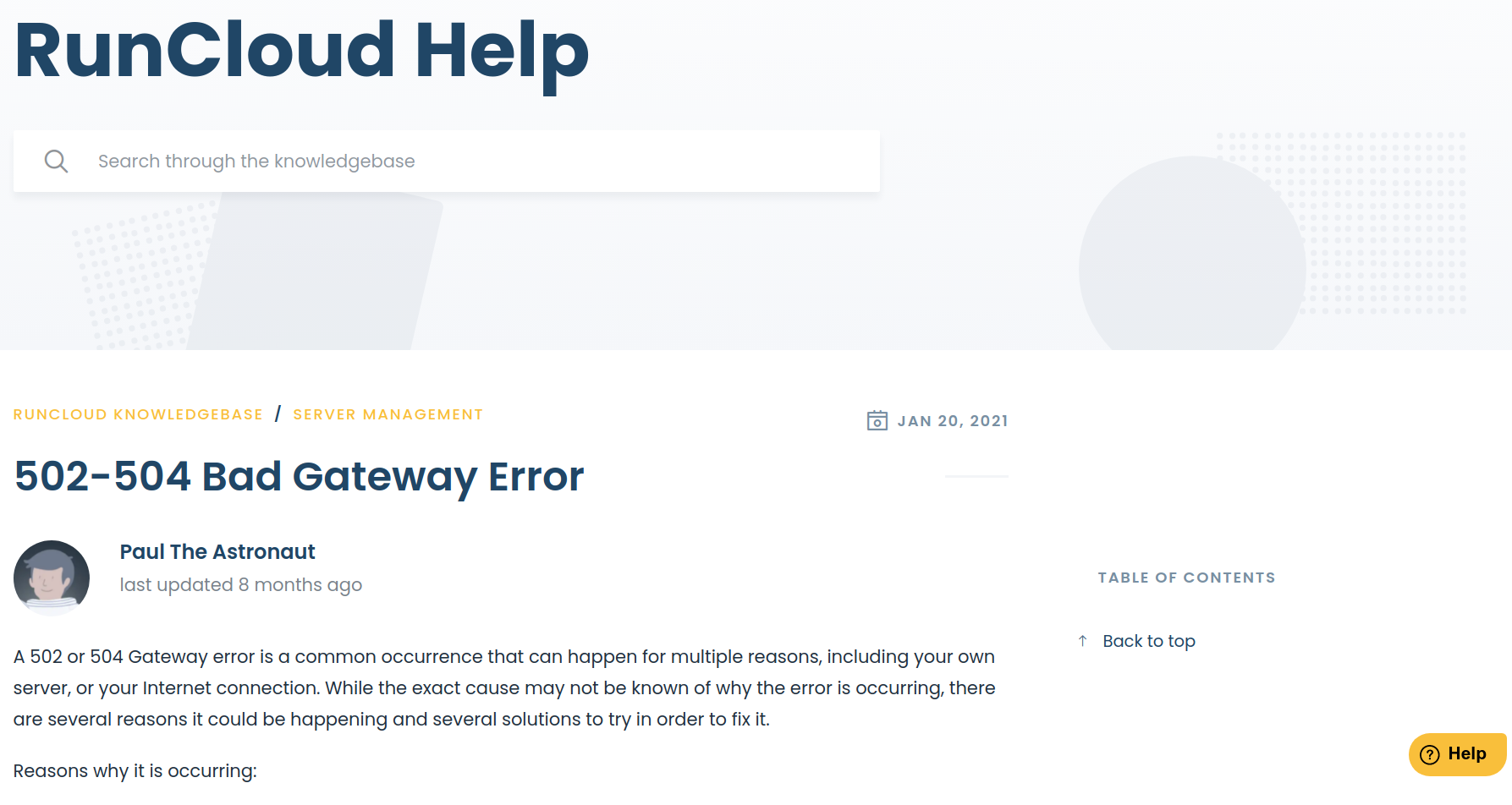 RunCloud provides you with ticket-based customer support. They also have self-help documentation and knowledge base for server management topics.
Keep in mind that they are not WordPress specialists, so keep your expectations reasonable when dealing with WordPress specific issues.
Conclusion
I think RunCloud provides good set of WordPress/PHP cloud server management features at reasonable pricing. On top of core server and WordPress/web application management functionality, it also has features like analytics, logging and troubleshooting which make it easy to keep your server running smoothly. They also provide email alerts of any issues. It is easy to use and the price seems very reasonable for all it does.
Disclosure: We may get a small commission if you buy certain products linked in this article. However, our opinions are our own and we only promote the products and services that we trust.